What is #AyeshaDiaries all about?
A part of my fiction section,is called Ayesha Diaries, which is about the adventures of a young girl Ayesha, her coming of age and many encounters that make her process life.
Though it is meant to be excerpts of a novel, it is put forth as some really interesting episodes of romcom for you. The follow-up episodes are all linked in the posts. Should you find any link broken, do not hesitate to contact me! (My contact info is at j.mp/Dcontact. You can find my about me at j.mp/Dabout)
As of now,  we have for you below
How Ayesha Diaries started?
A little background of Ayesha Diaries plot
The Valentine's Day series
The non-romantic Business series
Sudden trip to Goa with 20 strangers series
Episode 4 Beginning of the Charging

Scroll down for today's episode:
Previously on Ayesha Diaries :

Teri Meriiiiiiiiiii Kahaniyaan :
Episode 1.Cheesy day date in a hospital break
Episode 2.Jaw aching apple smiles with love, from tea
Episode 3.Save me from this date wala date!
(bookmark & visit again. Links coming soon!)

CHAPTER 1
Icy cold breeze of that night had haunted Ayesha to death. You know the kind that tears through the bones to the jaws? Of pain. Of indifference. But move on, she did. In hours, tinder life moved fast. Ayesha finally told Lovish about it in their late night 'walk you home' moment as he won't take no for sharing torment. Men came and went. No, seriously. Even Lovish. Their first date was awesome. But somehow it was a month. And in just one week it was jaws aching-this time of laughter every minute she was with him.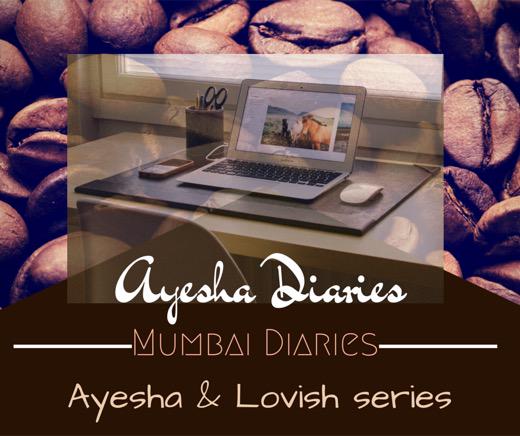 How Ayesha Diaries started?

I have always written in third person, all my life. But, as it is a diaries style, I'm doing a first person.

To quote my protagonist from an excerpt–


There's a tantalizing charm about secret diaries. Everyone wants to know about someone else's real life. Like sneak in. Somehow. Somehow get to be a third eye and watch their life from up above like an angel or a ghost who can't be seen but can see everything. Diaries,  are what where one writes their heart out completely. No matter how stupid or embarrassing, the things maybe. Which is why,  it is extremely difficult to control the temptation to pick up someone's diary when she's not around. Also, why we all guard our diaries. 

Tell me about how difficult it is to imagine to write a diary entry. Hope you like it! Please click on the below links to go to individual posts. Hope you love them! I've recently made some changes to my blog and some links or pics might be broken. Do let me know,  awesomeness! And don't forget to comment! LIKE & I won't say 'Subscribe'.


No, seriously I do understand what a pain it is with a daily email killing your life with subscriptions! But a lazy ass as I'm, and as my lazier intern won't work much, I'm left to providing you with an email update once in a blue moon. (Sleepy grin) (Big yawn) (Pout face).

A little background of Ayesha Diaries plot
for you to understand if you are new to joining this
Ayesha is a 5 feet 9 inches tall, voluptuous, sophisticated young woman who is an MBA grad who loves working smartly. She comes to Mumbai for her job in the corporate sector. She is smart, stylish, nervous & extremely vulnerable. Born to a single parent in an upper middle class family in India, and close exposure to deaths earlier on in life give her many perspectives. She is spiritual, but reserves her philosophical talks only to those who share the same wavelength.

On an usual day, she will pretend she is not as tall, be herself, (which is being fun, chilled out, and EXTREMELY lazy), and everytime she thought God was now not going to do anything new, life surprises her. She chronicles her date Diaries that add all the fun to this serious and light hearted drama.
Let's get the episodes rolling!

The interesting event in which Ayesha is asked out for coffee by Him. Should she expect it to be a date? What does he want from her? Can he be serious about being friends? How would the evening be like?

S02E12 12 bajke Chhatis minute
S02E13 12 Bajke Chhatis | A date is supposed to be special

S02E14 Meeting Protein Shake | Prelude to the backstage preparation

Previously on Ayesha Diaries….

Ayesha had met 'Him' and he had said he'd a great time. But they never met again for months and he had been busy. Recently after her many encounters she had thought why not him. They had talked over phone. Would anything really happen between Him and Her?

Read more,click here>>>>
S02E15 Meeting Protein Shake | When it happened

Previously on Ayesha Diaries….
Ayesha suddenly gets a call from him and before she knows she's fixed everything and enthralled everyone in her team with suspense on who that celeb is. They have to cover up for her. But sudden entry of her CEO had made her escape to meet Protein Shake next to impossible when she risked everything and fled.Will she be able to meet 'Him'? What are 'His' plans? Is he really the good guy or ……
Read more,click here>>>>
Ayesha Diaries – Velvety Dark Reverie

Sequel to Ayesha and Protein Shake series:

It was velvety dark all around. Dark brown velvet curtains slightly swaying in the chilling cold breeze.

A slight incandescent warm light shone on our faces. Taking a deep breath of the sensuous aquatic and red roses fragrance that still lingered on I chanced upon the rain smothered mirror. I had never looked more beautiful even in candle light. I looked like a completely different person.
The Friday night series
Be careful what you wish for on a Friday night Part1

'Hey Sexy Lady! Ooh come dance with me!' chimes loudly out of nowhere banging my ears.

Late in a Friday evening what had I expected anyways. There are some people who go out and party or maybe just go out to a bar and chill. Others like me sit and watch How I met your mother.

Read more,click here>>

Be careful what you wish for on a Friday night-Part 2

Previously on Ayesha Diaries…..

An engrossing dance tune makes lazy Ayesha get adventurous and get out of her apartment. A chance encounter makes her meet Mr.Picked you up on his birthday. Would the party go exactly as expected? Would this date be her best date?

Read more,click here>>

It's not who you spend Friday night with but who you spend all day Saturday with. (Part 3 of series)

Ritwik only called Rohan and me, the only latecomers of the evening(read night) to the grand dining table on the other end of the hall that I'd (God knows how), missed.

Surprisingly both men offered me the presiding chair.

Woww. A faint smile, a twinkle in the eye before the eye lashes go down. Only that they are not that thick. But we Indian women have a class at blushing.

The food was anything that can be hash tagged #BeyondImagination.


The Valentine's Day series 

So what happened on Valentine's Day?

The Astrological Transit has begun.




Since three days. You are very well aware that these three days have already changed a lot in your life. This is the phase of the biggest turning points that will change your life for forever in the next 69 days.

S01E01 Day 1: Pre-Valentine's Day with Flamboyance and massage.
Getting lifted in the darkest corners of South Bombay behind trees more…

S01E02 | Where do you take her out on Valentine's Day?
For Ayesha, it was becoming a dream come true. A chance date.

Getting lifted in the darkest corners of South Bombay behind trees more than the cops you would also expect the guy to be expecting a kiss. But if he lifts you all the way to the restaurant because you are sick, would you doubt something fishy when he keeps going out on calls? What could it be?

S01E03 | The Valentine's Day
kiss

Read the previous two episodes (if you think it's a Web series) / chapters (if you fancy a book), here.
Ayesha and Raj series

Mumbai Diaries -Chapter 1 Bhubaneswar to Nariman Point Uncut

There was no time for butterflies in stomach. There was no time to be afraid of entering the big bad city('Similar to NewYork' is what Ayesha had told her American friend,  Pete to give some metaphor for the huge city. NarimanPoint is the Manhattan of India).

There was no time to think anything. Time was running by. The clock hands were ticking faster than ever. Well, there wasn't time to check that either. Busy packing last minute things, changing bags, weighing and worrying if it would go within 20kg limit of flights.

Raj had been staring out completely.
"Kya hua? You don't wana talk when I'm leaving forever?"
"Ye bar bar bolna zaruri hai kya?"
He had proved to be the friend in need coming over to drop the first timers when their family had denied to do so.


The non-romantic Business series
Ayesha and the incredible I want to meet you!

Alrighty there! Is this a scene from a movie or is this a scene from a movie?

As I walk out of the coffee flavoured interiors, pushing the dark brown wooden door with protruding chocolate bars(ok, they looked like it) I am in mixed emotions, I don't know if I should smile.
Read more,click here>>

Ayesha meets Karen

'We choose the people we want to work with.' they had been reiterating.

'I've never given a presentation like this. With you somehow I feel a connect. We both come from orthodox families.-

Maybe she attributed this to the quick chirpy convo.'Coming from a small simple place in Goa to Pune I was all – She gave the lost and stumbled expression.'At home , my curfew time was 8.'

'Mine was 7:30' I had blurted and we had that 'See?'in our eyes.


Sudden Goa trip series

Mumbai Diaries- Random 2




24 December 2013

It is funny looking back what I'd scribbled back then. It's funnier introspecting & getting to know how one changes. Aradhana had been right always. It is me, the seemingly more mature Ayesha, the guru who's always counselled every needy soul to happiness about life and the deeper aspects of philosophy, who has been proven to be the one lacking any grip of life. Ari always used to say, ' Come, on Aiy, you don't even know what you will do in future. All your perspectives might change. We can't predict what we ourselves will do! Forget others! No psychology works, really. When we ourselves can surprise ourselves from what we might do (Hum dhudko chaunka dete hain. k hum kya kar guzartey hain'

It is but also obvious others can change- COMPLETELY
My fiction series is at j.mp/Dfiction.
Podcasts j.mp/Dpodcasts
My work of graphic design is on a slideshow at the work tab. j.mp/Dwork
Poems
Please feel free to always contact me. (j.mp/Dcontact) or share your feedback with me. j.mp/Dfeedback.
Also, don't forget to check out more about me at my about me page j.mp/Dabout